CMS Expresso by JpegCreations - Update your own website
Robust Flexible Content Management Systems
JpegCreations also develops websites with Joomla, Drupal, ModX CMS...
Just let us know what areas of your site you would like automated and we can prepare for you a free proposal. Better yet, schedule a consultation meeting. Call the studio 514 697 8838
What is CMS Expresso?
Manage and update your own website
A content management system (CMS) makes it easy for you to update your website without having to know anything about web development.
With just a few clicks you can update articles, upload photos, change the text on your homepage, or add new products to sell on your website.
If you've ever used web mail (like hotmail or yahoo) you already have the skills necessary to use a content management system
Your website is available to you 24/7
Get the power of CMS technology working for You
CMS Expresso keeps you in charge of your website. With the control you want and the flexibility you need, each installation of CMS Expresso is adapted specifically to your website.
---
You can use CMS Expresso for updating any area of your site, like...
Product listings
Changing prices
News releases
Announcing events
Press releases and articles
Blog posts
Managing staff bios
Updating your homepage text
Quotes and testimonials
Updating FAQs
Real estate listings
Classifieds (autos, pets, art)
Uploading photos
Uploading PDFs, Word Docs, etc
Or ANY other page on your site.
---
How it works
---
Just type in your content and click save.

In the above example, we're updating a quote on a website. When done you click 'save'.
Voila - you're done!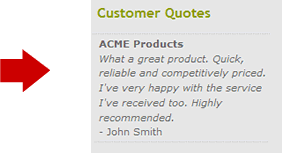 The content is instantly published to your site. No waiting! Updates can be done in seconds.
---
Features
It takes seconds to update your site!
whenever you choose
You can update your own website in less time than it takes for you to read this page. Your own custom content management system will give you all the tools you need to make changes on your own. If you know how to use web based email (like hotmail or yahoo email), you have what it takes to update your own site.
---
Make changes to any page on your website.
as often as you want
It doesn't matter what kind of website you have. Whether you need to add a new article, edit a classified listing (real estate, jobs, cars), sell items on your website, or update your homepage and contact info, with your own CMS you can make all of these changes on your own.
---
Bold Text, Link to Other Sites, Insert Photos, Upload Videos.
enrich your content with visual media
A built in Rich Text Editor makes it easy to make great looking content. Bold text, italicize words, or even upload your own photos and videos.
---
Queue up content in advance.
convenience that works for you
Going on vacation and unable to update your site? With your custom CMS it's no problem, simply prepare your content in advance and your website will be updated at the date you specified.
---
Easy and intuitive.
anyone can do it
Everything is self explanatory. Do you want to create a new article, click on the "articles" tab, making a change to your contact info, click on "contact us" tab. Our content management system's admin program is designed to be easy to understand, matching the navigation of your own website.
---
Grows as your website grows.
flexible and adaptable to evolve with you
You never know how your site will grow, you might need to add a new section or two to your website. That's not a problem, with very little effort we can easily customize our CMS to update new sections of your website.
Keep visitors coming back!
frequent updates will hold interest
New and fresh content keeps visitors and customers coming back. If your site always has the same old stuff, why would anyone want to return! Using a CMS tailor made for your website you can add new content whenever you want, and visitors will keep coming back to read more.
All the control you'll ever need. Instant updates, any time of day.
freedom to manage at your convenience
With your own custom content management system you'll have complete control over your entire website. You can make an unlimited number of updates at any time of day (available 24/7/365), all you need is your computer and a web browser. As easy as sending an email, with your own content management system you can instantly update your website.
---
---