Ecommerce Solutions by JpegCreations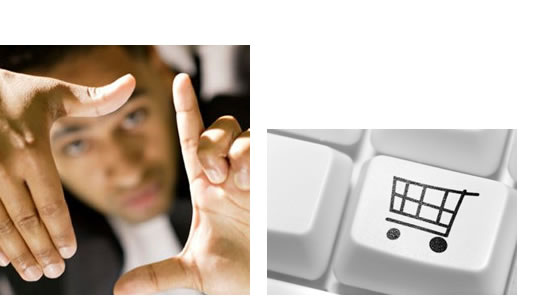 The Ultimate Goal - the Golden Gate
Every online seller′s dream!
The goal is to create the perfect sticky environment that will open the door to your visitor′s attention supported by text content to grab their interest and address their needs.
Then the logistical flow of your shopping cart will guide them seamlessly throughout the selling process to that golden gate of ecommerce - successful checkout!
That′s important to you because that means more sales!
An e-Commerce website by JpegCreations gives your business a definite edge up on your competition.
Call the studio to set up a meeting 514 697 8838
Successful e-Commerce
Websites for physical or virtual products and services
An e-Commerce website solution by JpegCreations offers your website visitors an opportunity to purchase a physical or virtual product with ease of use and successful check-out experience. That means more sales to you!
The Right Structure
Choosing the best solution for your needs scenario
The right shopping cart infrastructure creates the right environment, allowing your customers to enjoy their buying experience with confidence.
Expert Guidance
Our marketing and sales know-how will help you make the right choices every step of the way
You can count on our expertise as we work closely with you to identify the right shopping cart structure for your product and delivery environment.
Great Looking Design Elements
Visual elements are vital to a successful e-Commerce website
We believe that images and graphics must be eye-catching. We design around your product presentation specifically to reach out to your target market.
Just some of our Favorites
OpenSource (free) and Shopping Carts for Purchase
---
Flexible approach to find exactly what you want and need
Full Shopping Cart Website Structures are exactly that - an infrastructure which is comprised by the shopping cart functions with cms pages added in for web-text-content pages such as about us
Integrated Shopping Cart Solutions allow shopping cart elements to be plugged into your existing website in a modular fashion
A brainstorm session with JpegCreations can help discover all your options along with the pros and cons of each.
Online payment capability can increase sales for every type of business
Even if your business does not sell an online product or service, your customers will appreciate the option to pay your invoices with credit card or PayPal.
Chances are, your customers may feel more at-liberty to purchase more than if paying by cheque.
Call to set up an appointment to find out how JpegCreations can help you offer online payment solutions for your customers and watch your sales grow!
---
More Food for Thought
Email Expresso by JpegCreations
Email Web Marketing
Become proactive and bring visitors to your online selling environment with active email campaigns. EmailExpresso by JpegCreations lets you easily manage impressive-looking email campaigns with custom-designed branded templates we create specifically for your selling campaigns.
When you use email marketing, you maximize your internet business potential... find out more
---